Winner of the John Ciardi Prize for Poetry, selected by Patricia Spears Jones
Burch imagines Eve's life after Eden, in a world both ancient and contemporary, dystopian and redeemed.
In Latter Days of Eve, Beverly Burch writes into the Eve myth as if Eve were a prism shining a multitude of reflections across the ages. "Oh Eve, every Eve," she laments as we meet a cast of women in therapy offices, trashed campgrounds, old shrines, along the interstate, and we meet ourselves running from our own "disastrous lots." In Burch's dystopia, language is powerful and wholly original, exposing the narrative of escape and the refusal to disappear as "the world warps fast." Written at the edge of "blossoming disaster" and uncertain survival, the ancient and contemporary moment are exquisitely braided, and through this seer's eye, this most skillful poet's hand, she helps us remember how "always, the world's egg breaks open." A stunning work.
In Latter Days of Eve, Beverly Burch's re-imagined Eden is original and deliciously anachronistic; Adam and Eve's "marriage is snake-bit" and there is "something / mechanical droning in a faraway sky." Burch deftly leads us through biblical narratives to contemporary motherhood, to 'the desolate flourescence of mini-malls.' This fine book is a feat of the imagination.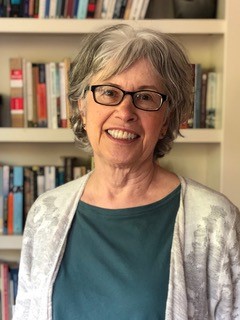 Beverly Burch
Beverly Burch is also the author of the poetry collections How a Mirage Works (Sixteen Rivers Press), which was a finalist for the Audre Lorde Award, and Sweet to Burn (winner of the Gival Press Poetry Prize and a Lambda Literary Award). She is also the author of two nonfiction books on psychoanalytic theory and sexual orientation: On Intimate Terms (University of Illinois Press) and Other Women (Columbia University Press). An Atlanta native, she has lived most of her adult life in the Bay Area and has a psychotherapy practice in Berkeley, California.​​