Winner of the John Ciardi Prize for Poetry , selected by Doug Ramspeck.
Dara Elerath is an immensely gifted poet who has written a memorable and highly quotable first book. I underlined many lines, dog-eared page after page. Her language glints and thrums and startles. Curiosity underscores her work—her imagination seeks new ways of seeing and understanding. It listens to "secrets told by cantaloupes," notices "violence against apples." It enters a glacier, its "milk-white center," discovers "the coldest heart on earth." Dark Braid is a terrific book. I highly recommend it.
One should read these poems carefully, and not once, but again and again. There are revelations in these pages, and moments of transcendent beauty and pure enchantment. But beware. Proceed with caution. Keep a bucket of ice water on hand. And remember to breathe softly, and listen with the heart. For the mind might catch fire, and the soul. Because this is poetry at its best. It can warm you. It can also turn you to ash. Dara Elerath is clearly and brilliant new voice for American poetry.
This exceptional debut from Dara Elerath enthralls readers from the first poem and reminds us: "This is why I endanger myself." We live and read with the hope of encountering such deft lyricism, to remain with the collection's speakers from imperative through disclosure. Dark Braid coruscates linguistically, whether we follow the lines down the page through rhyme and sonic turn or through sinuous prose poem lines. Celebrate this book, one of the most compelling new works from graduates of the Institute of American Indian Arts.
Dark Braid, Dara Elerath's first book of poems, leads the reader into parallel worlds where beauty exists alongside the grotesque; animals, flowers, and food sit alongside death. Like dripping jewels, each of Elerath's poems is a glimmering collage of images clipped from anatomy and botany books, old Grimm Brothers' fairy tales and from the pages of fashion magazines. Mythic, and yet grounded in the contemporary, these masterful poems are delightful: a surprising and exquisite poetry collection.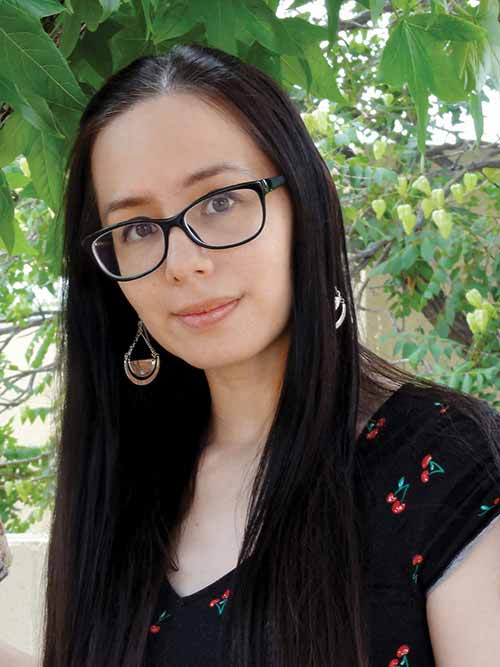 Dara Yen Elerath
Dara Yen Elerath's work has appeared in AGNI, American Poetry Review, Poet Lore, and elsewhere. She holds an MFA in poetry from the Institute of American Indian Arts. She is also a graduate of the Southwest University of Visual Arts and the University of New Mexico. A graphic artist as well as a poet, she lives in Albuquerque, New Mexico. Dark Braid is her debut book..