What do we mean by home? In Drawn from Water, American Jew Dina Elenbogen explores her thirty-year friendship with Ethiopian Jewish immigrants in Israel as they struggle in a new country while dealing with her own desire to join them there. Thirty years ago, Operation Moses airlifted thousands of Ethiopian Jews to Israel, where today they, immigrants from other years, and descendants form a community over 100,000 strong. Through the stories of the children Osnat, Elad, and their siblings, Elenbogen raises questions about religion, assimilation, and cultural identity. The author's poetic voice examines immigration in all its forms, success and failure, adaptation and resistance. Black Ethiopians suffer discrimination, and are hindered by cultural and language difficulties, yet the children eventually attend college, marry, and have families of their own. Dina's personal journey parallels theirs, but poetry and the arts give her a bridge between her life in America and her desire for Israel.
The biblical-like saga of the Ethiopian Jewish exodus to the modern state of Israel has been told by journalists, sociologists, anthropologists. Now, finally, this story has found its poet. Dina Elenbogen has written a beautiful, heartbreaking book about the quest for home—a journey shared by an American Jew, member of the most privileged Jewish community, with Ethiopian immigrants in Israel, the least privileged Jews. In the longings and fulfillment and missed opportunities that are the story of the Ethiopian exodus, old dreams are broken even as a new dreams are being born. Elenbogen is sensitive to the nuances that often elude those writing about Israel and its challenges. This exquisitely written meditation is a significant contribution to the literature of contemporary Jewish identity, and of the meaning of Israel for Jews today
Dina Elenbogen's Drawn from Water does many fascinating things at once: It takes us on her personal journey as woman and poet—I felt as if I was watching her grow up before my eyes—while it describes, analyzes and critiques the ambivalent welcome Israel has extended to its Ethiopian families. A graceful, candid and emotionally generous writer, she paints a complicated and colorful landscape that will be newly enlightening to some and rendered with deep resonance for those who already know it.
Elenbogen's writing provides passionate insights into questions of identity—how identity is an extraordinary mix of the individual, cultural, and tribal. In Drawn from Water, those aspects are further complicated by differences in language, landscape, politics, and history. In bridging those, Elenbogen has forged a powerful story of dislocation and homecoming, one that is global in scope, personal in depth
Impressively well written, organized and presented, Drawn From Water is a compelling and inherently fascinating story that is very highly recommended.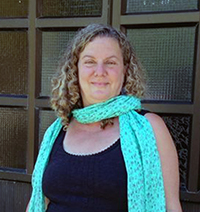 Dina Elenbogen
Dina Elenbogen is author of the poetry collection Apples of the Earth and recipient of two fellowships and an award from the Illinois Arts Council. Her work has been published in numerous magazines including Prairie Schooner, Poet Lore, Tikkun, Bellevue Literary Review, PatersonLiterary Review, New City Chicago and numerous anthologies. She holdsa poetry MFA from the University of Iowa and teaches creative writing at the University of Chicago's Graham School. She lives in Evanston, Illinois, with her husband and children.